Custom HTML/CSS/JAVASCRIPT
In the blink of an eye, we will be filled with joyous holiday tunes, Black Friday deals will bombard every marketing channel, we will be surrounded with twinkling lights, and holiday vibes will be in full swing. Ah yes, it's that heart-racing, exhilarating time of the year... Welcome to the Holiday Season!
If you've been a part of our amazing beauty industry, you know more than anyone that this season can be a dizzying whirlwind of tight schedules, ramped-up responsibilities, time-honored traditions, and a kaleidoscope of promotions. But before that pang of anxiety starts to kick in, let's shift our perspective and turn this into an opportunity.
I am here to chat about how to make your holiday season not just manageable, but immensely profitable as well. I am on a mission to prove that with ample foresight, strategic planning, and the right tactics, you can set your salon or suite up for a successful holiday season. I truly believe in your potential to transform this festive chaos into a dance of prosperity and joy. Let's unwrap this challenge together!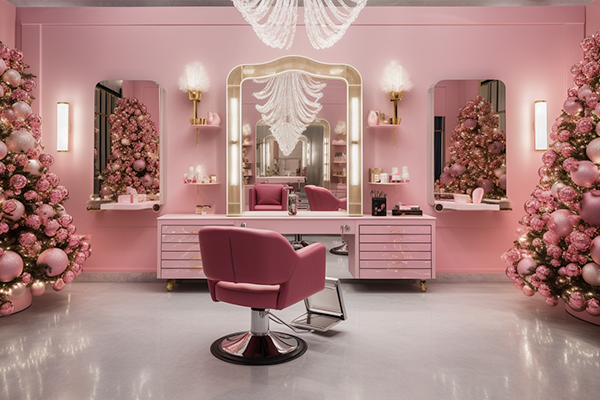 This is the premium time for you to elevate your beauty biz game, captivate a wealth of revenue, and solidify your brand legacy.
Are you ready to step into your power and take advantage of this profitable period to the maximum potential? Let's dive into some high-impact strategies that will not only skyrocket your holiday revenue but also create ripples of success that last long into the future!
1. Glam it up! Elevate Your Salon's Beauty Services for the Holidays
Enthrall your clients with a holiday-themed menu of services. Imagine transforming your salon into a sanctuary of holiday bliss, a winter wonderland where each service is a gift, wrapped in the luxurious ribbons of cranberry and mint. Offering exclusive winter experiences can transform an ordinary appointment into a luxurious celebration.
These unique experiences will not only have your appointment book filled to the brim, but will also inspire gleaming reviews.
Craft a Holiday-Themed Menu: Begin by curating a specialized menu of holiday-themed beauty services. Think beyond the ordinary—luxurious cranberry facials that rejuvenate the skin like the first snowfall, or invigorating winter mint pedicures that dance on the senses.

Promote Limited-Time Offers: Create a sense of urgency with limited-time holiday packages. Bundle these exclusive services with your top-selling beauty products to create an irresistible holiday offering.

Showcase Your Artistry: Use your social media platforms to showcase these holiday transformations. A before-and-after reel on Instagram or a quick tutorial on how to achieve the perfect holiday glow can go a long way in attracting new clients.

Train Your Team: Ensure your team is well-versed in delivering these specialized services. A well-executed cranberry facial or winter mint pedicure can turn a first-time visitor into a lifelong client.
2. Maximize Salon Revenue with Holiday Gift Cards
Picture this: a golden envelope sealed with a delicate ribbon, nestled under a twinkling Christmas tree. Inside, not just a gift card, but a passport to a realm of beauty and indulgence.
Create Holiday Gift Packages: Elevate the gift card experience by bundling them with your salon's best-loved beauty products. Imagine a gift card tucked inside a basket of luxurious skincare products, or paired with a limited-edition holiday fragrance.

Promote Exclusivity: Use your salon's social media channels to tease these exclusive holiday packages! Create a sense of urgency with countdowns and limited availability announcements.

Leverage Email Marketing: Send out personalized email campaigns that not only showcase your holiday gift packages but also include special incentives for early purchases, like a complimentary or discounted service on their next visit.
Gift cards are your secret weapon! Think beyond just the card - create tantalizing holiday gift packages by combining cards with your best-loved products. This will drive immediate sales and sow the seeds for future bookings, expanding your clientele and your profit margins.
3. Boost Earnings with Festive Add-On Services
Now, this is a personal favorite. It's time to sprinkle your salon with holiday magic!
Imagine a salon visit that feels like stepping into a winter fairy tale! These add-ons are not just services; they're the pixie dust that transforms a routine salon visit into a holiday extravaganza.
Curate a Festive Add-On Menu: Craft a specialized menu of festive add-on services. Think ethereal snowflake nail art, shimmering glitter hair sprays, or holiday-inspired makeup that captures the essence of the season.

Showcase the Magic: Use your salon's social media platforms to showcase these magical add-ons. A quick Instagram reel featuring a client's transformation from everyday beauty to holiday enchantress can work wonders.

Incentivize Early Bookings: Encourage clients to book these add-ons in advance by offering special discounts or a complimentary mini-service, like a quick hand massage.
These small add-ons can significantly boost your earnings while adding a touch of holiday magic to your services. You're creating an experience that will not only fill your cash register but also fill your salon with the joyous buzz of the holiday season. And in doing so, you're weaving yet another golden thread into the tapestry of your beauty industry legacy.
4. Amplify Your Salon's Social Media Presence this Holiday Season
Leverage the power of social media to magnify your holiday promotions. Showcase your special offers, share client transformations, and sprinkle in some holiday cheer. These engaging visuals and stories will attract a larger audience and convert followers into clients.
Craft Captivating Holiday Posts: Start by creating a series of holiday-themed posts that showcase your salon's special offers. Whether it's a '12 Days of Beauty' countdown or a 'Festive Friday Flash Sale,' make each post a visual and emotional delight.

Share Transformational Stories: Use before-and-after photos or video reels to share client transformations, complete with festive add-ons and radiant smiles.

Engage with Holiday Cheer: Don't just post; engage! Respond to comments, share content shared by your audience (such as photos and testimonials!), and sprinkle your feed with holiday cheer—think inspirational quotes, holiday trivia, or even a virtual advent calendar.

Run Holiday Contests: Engage your audience with holiday contests or giveaways. Whether it's a 'Best Holiday Look' contest or a 'Win a Free Makeover' giveaway, these activities create buzz and encourage user participation.

Utilize Instagram and Facebook Stories: Use Stories to offer real-time updates on special promotions, behind-the-scenes looks, or quick beauty tips for the holiday season. Stories are a great way to keep your audience engaged and informed.
By leveraging the power of social media this holiday season, you're not just amplifying your salon's promotions; you're creating a digital experience that captivates and converts, and turning casual followers into loyal clients.
5. Host a Must-Attend Holiday Event for Salon Success and Community-Building
Nothing says community like a holiday event. Just picture your salon transformed into a holiday wonderland, a place where the community gathers not just for beauty services but for a celebration of togetherness and joy.
Whether it's a VIP pampering session, a charity collaboration, or a holiday beauty masterclass, hosting an event will generate buzz, build strong client relationships, and position your salon as a beloved local leader.
Choose Your Event Type: Each event type serves a different purpose but all contribute to building a strong community around your salon.

Promote, Promote, Promote: Use all your marketing channels—email, social media, in-salon posters—to spread the word. Create a sense of anticipation with countdowns, teasers, and exclusive sneak peeks.

Collaborate for Greater Impact: Partner with local businesses or charities to amplify the reach and impact of your event. Joint promotions can attract a wider audience and create a sense of community involvement.

Engage During the Event: Make sure to capture the magic as it happens! Live-stream parts of the event on your social media platforms, and encourage attendees to share their experiences using a custom event hashtag.
By hosting a must-attend holiday event, you're doing more than just generating buzz; you're building a community around your salon. You're strengthening client relationships and positioning your salon as a beloved local leader. And in doing so, you're not just lighting up your salon; you're lighting up lives.
6. Transform Your Salon into a Holiday Wonderland
Transform your salon into a holiday wonderland, and you're creating an atmosphere that lifts spirits, attracts clients, and turns your salon into a holiday destination. A festive environment not only attracts customers but also boosts your staff's morale. Remember, a cheerful and inspired staff makes for happy customers!
Plan Your Holiday Theme: Decide on a cohesive holiday theme that resonates with your brand's identity. Whether it's a winter wonderland or a vintage Christmas, make sure it's a visual feast that captivates the senses.

Deck the Halls...and More: Go beyond the usual holiday decor. Think twinkling fairy lights draped over mirrors, scented candles that evoke the aroma of the season, and festive playlists that fill the air with holiday cheer.

Showcase on Social Media: Once your salon is transformed, share the magical experience on your social media platforms. A virtual tour of your holiday wonderland can attract new clients and excite existing ones.

Offer Seasonal Specials: Use the festive decor as a backdrop for promoting seasonal specials. Feature these offers in your salon's window display, on your website, and across your social media channels.
By transforming your salon into a holiday wonderland, you're doing more than just attracting customers; you're boosting staff morale and creating an environment where joy is the currency. You're not just filling chairs; you're filling hearts.
7. Foster the Spirit of Giving
Our careers are worth so much more than what's on the surface -- not only do we get to create beautiful transformations every day, we get to enrich lives and leave an indelible mark on the community.
Your salon has the opportunity to partner with local charities or organize in-salon fundraising events. Be the light in the community that brings hope, joy, and holiday spirit of giving.
---
Friends, these are more than just strategies; they're transformative steps towards claiming the success you're destined for. This holiday season is your launchpad to incredible growth, a stronger brand presence, and an enviable legacy.
It's my mission to help as many people to create a legacy and generational wealth through their salons, and I wholeheartedly believe in your potential to turn your salon into a lucrative enterprise. If you need assistance on this incredible journey, don't hesitate to reach out. You can book a free call with me here to discuss your business and how to achieve your goals! We're in this venture together, carving paths of prosperity in our lives and our businesses.
As we enter this time of joy and giving, remember that your dreams aren't just flights of fancy - they are the blueprint of your future. So, step into your power, seize these strategies, and create a holiday season that propels you towards your vision of success. Until our next chat, I send you blessings on your journey. Remember, you are creating more than a thriving business; you are creating a life of fulfillment.
"As the holiday cheer spreads, let's awaken our passion, glow brightly in our industry and community, and carve a path of prosperity that inspires others!"